Amateur radio is one of my interests after hours.
Main interest areas are low power communications (known as QRP), HF shortwave, and using morse code (CW) when opportunities permit.
Currently the main station runs around 50W output in to a modest 50 foot long wire antenna. But on 20m CW this has been sufficient to achieve a good number of contacts to Europe, North America as well as within the Asia-Pacific region.
Having originated from the UK, the most obvious difference on the HF bands in Australia is just how quiet the bands are. In some respects, that's not too surprising when you find out how far away most other places are. The map below is the great circle map centred on Australia, just to give you an impression.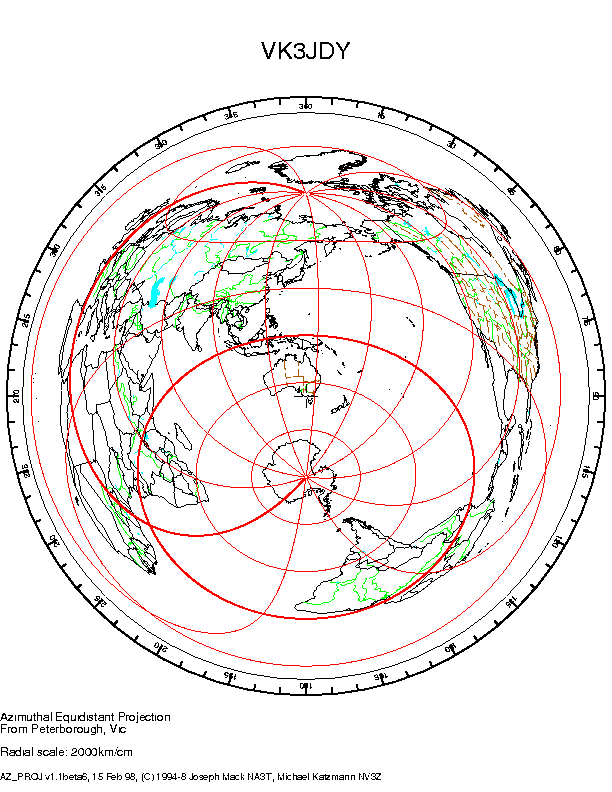 If you want to create your own Great Circle map centred on your location, like this one, check out the page of WM7D which has all this.
For some more info about amateur radio in Australia generally, check this article by VK2IDS/G4LGK
HF (Short wave) Radio in Australia
HF (short wave) radio is still used extensively in Australia. The vast size of the country means that VHF/UHF and mobile phone networks still only cover a very small part of the total landmass. GSM mobile phone coverage covers less than 5% of the country although it reaches 95% of the population. Whilst satellite communication is beginning to offer universal coverage, there is still very extensive use of HF radio in outback Australia.
A well known user is the Royal Flying Doctor Service:

Police and other emergency services also use it extensively. If you interested in some frequency information, try these sites:
VHF & HF Frequencies for the Victoria Police service
Penta - who provide a private HF radio service for marine and outback/land subscribers
Radio Australia is the external broadcasting arm of the ABC, but within Australia, the domestic station Radio National is also broadcast on HF for central and northern Australia. Frequencies are:
2485, 2310, 2325 at night, 4835, 4910, 5025 during the day, and also 3230, 3315, 3370.
---