John's Place Downunder
Peterborough, Victoria, Australia
Amateur Radio - Gliding - Kelpie dogs -
---

Peterborough, Victoria (VIC), Australia
Peterborough is a small friendly coastal township, population around 200, located 250km (150 miles) SW of Melbourne. It's at the western end of the Great Ocean Road, an internationally recognised scenic tourist route.
Peterborough is close to the spectacular coastal scenery of the Bay of Islands, London Bridge and the Arch. The Twelve Apostles and Loch Ard Gorge are about 20km to the east. Peterborough looks out on to the Southern Ocean and the next landfall is Antarctica, 2000 miles away to the south.
Port Campbell is 12km east, whilst Warrnambool is our regional centre, 50km to the west. A little further to the west lies the Tower Hill national park and the picturesque fishing town of Port Fairy. Port Fairy is probably best known around Australia for its Folk Festival during the first weekend in March.
Like many small coastal communities, Peterborough faces a number of issues concerning its future development. These issues include the likely introduction of a town sewerage system and a major property development proposal which is causing us all to think how much more we want Peterborough to expand. Meanwhile, nearby to Peterborough there have been been several successful on-shore and off-shore exploration drills for natural gas, which are in the process of being developed and connected to distribution pipelines to Melbourne and Adelaide (of course, we don't actually have any gas distributed in Peterborough!). And most recently, about 10km away there are two separate proposals for wind turbines for electrical power generation.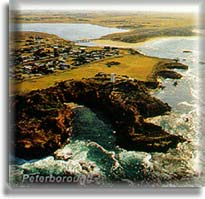 Around Peterborough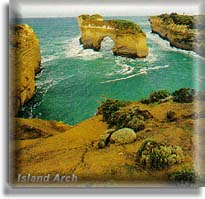 Peterborough - Facilities & Services
Facilities in Peterborough are limited but most essential services are provided.
Peterborough General Store - also doubles as our local post office, take-away and petrol station. Recent additions under the new owners include much improved facilities for eating on the premises, a proper coffee machine and a free internet terminal.

Peterborough Licensed Grocers - groceries, wine (wide selection and some good vintages) and beer, and videos for hire

Peterborough Motel - accommodation obviously, also has been doing coffees and meals for passing visitors during the summer season

Schomberg Inn (aka Peterborough Hotel/Pub) - our local pub, provides meals (steak and fish dishes are particularly good) and accommodation as well. The new owners have recently built a new dining area and barbeque grill which have significantly improved the attraction of eating there.

Peterborough Great Ocean Road Tourist Park - The main caravan, camping and cabin park, close to the river and the beach (and the pub!). Good, clean facilities and very popular.

Peterborough Coastal Caravan Park - A smaller more basic caravan park, 1km west of the bridge.

Peterborough Golf Club - Even if you can't play golf, a walk around the holes provides some impressive views as the course wraps around the town.

Peterborough CFA Fire Station - hopefully you won't need to use this service, but the station also doubles as a community hall for various groups and town meetings. Our nearest police station is in Port Campbell, and ambulance/hospital is in Timboon.

Otherwise, Timboon (pop. 900), Port Campbell (pop. 600) or Warrnambool (pop. 30,000) provide a more comprehensive range of services.
Recreation and Relaxation
Peterborough's principal attractions are its coastal scenery, sandy beaches and some spectacular views. For recreation, the ocean offers swimming, surfing and fishing. Another popular activity is diving to explore the reefs and various shipwreck sites. Peterborough has several quiet sandy beaches and bays to enjoy the ocean. Just offshore, for experienced surfers, several reefs create some big surfing waves under the right conditions. Port Campbell provides the nearest beach patrolled by lifesavers during summer. If you have a boat, there is a boat ramp (with the reputation of being the longest and steepest in Victoria) at the Bay of Islands.
Shipwreck sites around Peterborough include The Falls of Halladale, Schomberg, Newfield, Antares and The Children.
Peterborough lies at the mouth of the Curdies river, which is cut off from the ocean for most of the year, making a large inlet. The Curdies river offers fishing, plenty of space to potter in a boat, the marvellously named Boggy Creek Pub (another great pub for food), and there's plenty of coastal bird life to watch.
Peterborough itself has a challenging 9 hole golf course between the town and the cliff tops. There are also tennis courts, a new children's playground and barbeque facilities. You can even take a sight-seeing flight from an airstrip 1km east of Peterborough. But most of all Peterborough is one of those quiet coastal towns where you should be relaxing and just taking in the fresh air and the scenery.
There's plenty of wildlife around, most notably the many varieties of coastal birds including pelicans and eagles. On land we have a vast population of rabbits in the coastal heath. But you might be lucky enough to spot a seal, or even a whale offshore, whilst on land some of the local wildlife spotted around the area includes kangaroos, echidnas, bandicoots, wombats, snakes and lots more.
Bay of Islands Coastal Park - The park starts at Peterborough and runs for about 30km west. There are a number of viewpoints, walking tracks and beach access points scattered along the length of the park, and facilities are being steadily improved. Dogs are allowed on some of the beaches in this park (which is one reason we live here).
Our coastal location means that we have a lot of windy weather (I guess that's one reason they want to locate wind turbines nearby), but mostly it's mild and sunny, in the temperature range 18-25 degrees in summer, 10-16 degrees in winter. Check out today's weather forecast.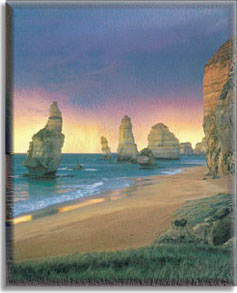 The Twelve Apostles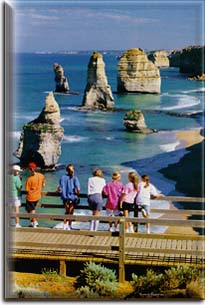 Some places to visit close to Peterborough include:
Great Ocean Road coastal scenery and features including: Bay of Islands, Bay of Martyrs, the Grotto, London Bridge and the Arch are all less than 10km from Peterborough.
Further to the east the sights include Loch Ard Gorge, Twelve Apostles, Moonlight Head and Cape Otway. Cape Otway lighthouse has its own web site. Another useful information source is lighthouses of Australia.
Childers Cove (20km W of Peterborough) is a marvellous quiet bay surrounded by cliffs in the area where "The Children" was wrecked in 1839.
Timboon Farmhouse Cheese (20km N of Peterborough) makes superb organic cheeses, specialising mainly in the soft cheeses like Brie, Camembert, Feta, Timboonzola. Close to Warrnambool at Allansford there is also Cheeseworld, a much larger operation at the Warrnambool Cheese & Butter Factory, but worth a stop if you like to try or buy some exotic cheeses, or Warrnambool butter that is manufactured there.
Timboon Fine Ice Cream at Timboon has recently started up, and it certainly has our seal of approval. It's available from various local outlets in Timboon, Port Campbell and Warrnambool.
Berryworld at Timboon has some superb strawberries and related produce, that you can pick yourself, or just purchase pre-picked if you are in a hurry.
Port Campbell township - Try Twenty-ate, the Koo-aah cafe or Waves restaurant for some good food, but there are several other choices for refreshment depending on whether your taste is for fast food, pub grub or a restaurant. There's also a small museum, plus surfing and tourist shops to keep you occupied. Port Campbell has a small but pleasant beach with a surf life saving club patrolling in summer. You can't miss their impressive new premises. There's an extensive range of accommodation options ranging from the campsite and youth hostel through to motels, hotels and bed and breakfast. There are also boat trips (sightseeing or fishing), diving trips, four wheel driving and helicopter sightseeing tours that can be organised in or close to Port Campbell.
Port Campbell National Park - This park runs from just east of Peterborough to Cape Otway, and takes in most of the coastal strip. There is a Park Information centre in Port Campbell and at the twelve apostles, there is a brand new visitor centre.
Other links with information about Peterborough and surrounding area:
Great Ocean Road tourist organisation - some good information and images of the region

Parks Victoria - info on the Bay of Islands and Port Campbell parks

Timboon, Cobden, Terang, Mortlake, Camperdown - Lots of good local knowledge and visitor info about this area just inland from Peterborough.

Lonely Planet's guide to Victoria

Travel Australia - info on Port Campbell and Peterborough

The Standard is Warrnambool's daily local newspaper, also published online.

Local radio stations are 3WL/3WV (1602 & 594 MW) - for ABC western Victoria, and Warrnambool's 3YB (882 MW) AM commercial station. Commercial FM radio finally arrived here in 2002 with Coast FM (95.3MHz) in Warrnambool.
Other links to Victoria and Australia:
The Age - our broadsheet Victorian newspaper

ABC - Australian Broadcasting Corporation

Maps and Tourist Information from all over Australia (lots of detail here, for planning a trip)

Vicnet has a vast array of travel and tourism information and useful links about Victoria.

Visit Victoria has some useful links as well.
Peterborough - What's in a name?
Our Peterborough is probably the smallest of five places around the world with the same name.
In England, there is the large city of Peterborough, Cambridgeshire from which all the others have derived their names.
In Australia, our bigger brother is Peterborough, South Australia (SA).
In eastern Canada and USA there are three other communities with the same name.
Peterborough, Ontario (ON), Canada
Peterborough, New Hampshire (NH), USA
And there is Peterborough, Quebec (QC), Canada. So far as I can tell, it seems only to be a canton (county) and not a town as such. If you know differently, please let me know.
---
Amateur Radio and Shortwave (HF) Radio in Australia
I have some more extensive information on my interests in this area, over on my amateur radio page located on the www.qsl.net site. But here's a brief overview...
My main interest areas are low power communications (known as QRP), shortwave (HF), and using morse code (CW) when opportunities permit. Most likely you will find me on 14MHz or 21MHz CW and sometimes on SSB.
"One day" I hope to get some of my other equipment operational (still in storage after our move from the UK), which would include the capability to operate all modes 10m-160m, 2m multimode, 137MHz weather satellite reception, FM on 2m/70cm and packet/data/AMTOR etc capability with my PK232.
Currently the main station runs 50W output feeding a modest 50 foot long wire antenna. But on 20m CW this has been sufficient to achieve a good number of contacts to Europe, North America as well as within the Asia-Pacific region.
Having originated from the UK, the most obvious difference on the HF bands in Australia is just how quiet the bands are out here. But then again, it's not too surprising when you see how far we are from the highly populated areas.
Whenever possible, I enjoy calling the less strong signals, often from from European or North American amateurs like myself running more modest power levels and/or antenna systems, and often surprising them about how far their signals are really going.
But take a look at my other page if you are more interested to find out more.
---
Kelpie - A classic Australian Working Dog
If you aren't Australian you probably are wondering what on earth a Kelpie is.
It's an Australian working dog, derived from the Border Collie from Britain, possibly crossed with another breed (no one is quite sure what, but the Australian dingo is the most exotic theory). The end result is a shorter haired breed of similar size to a collie, that comes in various colour combinations, but typically are red/brown or black with white patches. Our own dog looks like this: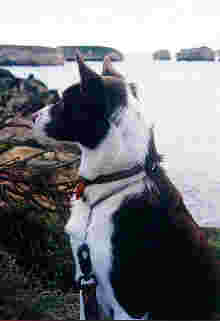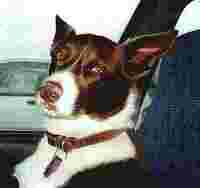 The Kelpie breed has almost endless energy, and is really optimised for working rather than as a domestic pet. As a pet, you need to be prepared for lots of walks (and a fair bit of running) and in return you will get a loyal, intelligent and generally very obedient pet. Our Kelpie, like most is good with children, although can unintentionally intimidate very young children with the urge to chase, round-up, play and bark.
There are numerous stories about Kelpies and other Australian working dogs. One particular book I would recommend is Great Working Dog Stories, although I think you will only find it published in Australia.
The origins, history and other fascinating facts about the Kelpie are much better covered on some of these specialist pages:
Some more information about Kelpies
Our own dog arrived as a stray, found sleeping under our car one morning. He was in pretty good condition, and we suspected that he'd only become "lost" a few hours before. We guess he'd either jumped from a ute or sheep truck, or got sidetracked and that his owner had left without him, or didn't even realise he was missing. Most likely someone is still wondering to this day what became of their dog.
With no lost dogs reported, later that day we arranged for the dog to be collected and placed in the council dog pound. The statutory 8 days in the council dog pound passed, with no sign of anyone else looking for him, and we decided to give him a permanent home. For the modest cost of $5 to claim him, he was now our dog. He seemed to recognise he was on to a good thing and made himself very friendly as though he had been with us for a lifetime.
Whilst a Kelpie is not a breed we would have chosen for a pet in normal circumstances, we have never regretted our decision. Yes, he does need lots of walking - generally he gets two hour-long walks each day, and we try not to leave him to his own devices for too long each day (idle paws can shift a lot of dirt). But in return we have a very loyal, intelligent, friendly and playful companion.
---
As a "Pom" in Australia, I feel it's my duty to point you to some of the better things from my homeland. Out here we especially miss our UK friends and my family, and of course the beer and pubs...
Cambridge and East Anglia
This is the area where we used to live. There is a huge amount of information about Cambridge. One of our favourite times was the Cambridge Folk Festival, which seems to be getting bigger and better each year. There are some excellent Cambridge pub guides around now, to point you in the right direction if you want to sample some of the Cambridge lifestyle.
Check out today's East Anglian weather (just in case I need convincing that Australia really is warmer!).
What about that British Beer that I miss? - CAMRA is the organisation in the UK that has done much to save the traditional beer. If whisky is more to your taste, then head this way, but don't blame me for the hangover.
A plea for anyone who gets around to importing Greene King's Abbot Ale into Australia, do let me know. Some British and Irish brews make it to Australia, but unfortunately that isn't one of them so far.
Crystal Palace FC
Alright, so we all have our blind spots. I still follow the fortunes of my (once local) football team. You can have a look at the official Crystal Palace home page and find out a bit more about them. In the seventies when I followed them more closely, they were in the first division for a while and I even remember them occasionally beating teams like Man U and Liverpool...but since then their fortunes have waxed and waned. I wonder if they still play "glad all over" as the pre-match tune?
British News and Information
There's lots of stuff available but these are some of the most useful sites I have found to catch up on news from Britain.
Electronic Telegraph - the internet version of the Daily Telegraph
BBC - You can also listen to the news on this site as well
Independent Radio News also has Real Audio including the football results on Saturdays.
Cricket Info - for all the latest cricket news
---
Born and bred in England, I grew up in Oxted, Surrey, attended Oxted County School, then went to Sheffield University, studying Geography (when I wasn't busy researching my guide to Pubs in the Peak District). I then worked for a fair while with Pye Telecom, which became Philips Telecom (now Simoco) in Cambridge. In 1996 I moved to Australia with my australian wife, Carolyne.
In Australia we lived for the first two years in Horsham, Victoria, and for the last 5 years in Peterborough, which we now call home. Currently I work with a local communications company involved with telephone systems, mobile phones and two way radios.
My main recreational interests include amateur radio, gliding and bush/hill walking.
I got interested in amateur (ham) radio as a youngster and I got my amateur radio call G4BXN in 1973 and transferred to an Australian call VK3JDY in 1996. Follow the link to my amateur radio page for more on this topic.
I took up gliding in 1992, soloing in the same year, but still trying to find time to complete my Silver badge - despite the marvellous conditions downunder. Total gliding hours are somewhere around 200. Follow the link for more on my gliding interests.
My interest in bush/hill walking developed from my time at Sheffield. Since then I've visited most hill walking areas of the UK plus walking/trekking trips further afield to Ireland, France, Andorra, Iceland, Russia and most recently, Nepal. In Australia, most of our bushwalking has been done in Tasmania.
If you remember me from one of my past lives and we have lost touch, I'd be delighted to hear from you.
---
This page was last updated 25 April 2003
John Young
vk3jdy@qsl.net
Peterborough, Victoria
Australia
---

This page has been visited
times.
---